Sing "buy bye" to
over-purchased
green products
Established in 2008 by Chung Ying Theatre Company, Muse Up! Youth Musical Theatre Troupe has staged a number of original musicals based on social issues and observations from daily life, leading young and adult audiences to reflect on themselves. In this finale performance "Muse Up! The Original Musical 2019: Buy Bye Land", troupe members would share their thoughts and feelings about environmental protection to the audience on stage with music, dance and drama.
Event Identity & Illustration

A youth musical that involves a wide age range of youngsters sets out the tone of the key visual to be playful and professional at the same time. Illustration is the form that we immediately went for. The musical addressed the issue of "going green to be seen" – over-purchasing of environmentally friendly products, so the key visual was a tide of those products going after a girl.
Spread Out the Leaflet

To better illustrate the seriousness, we made the leaflet to be a 10-page accordion fold, so that potential musical goers would pull and expand the leaflet and were able to see the products hidden inside, delivering the message of underestimation of the numbers of those products one owns.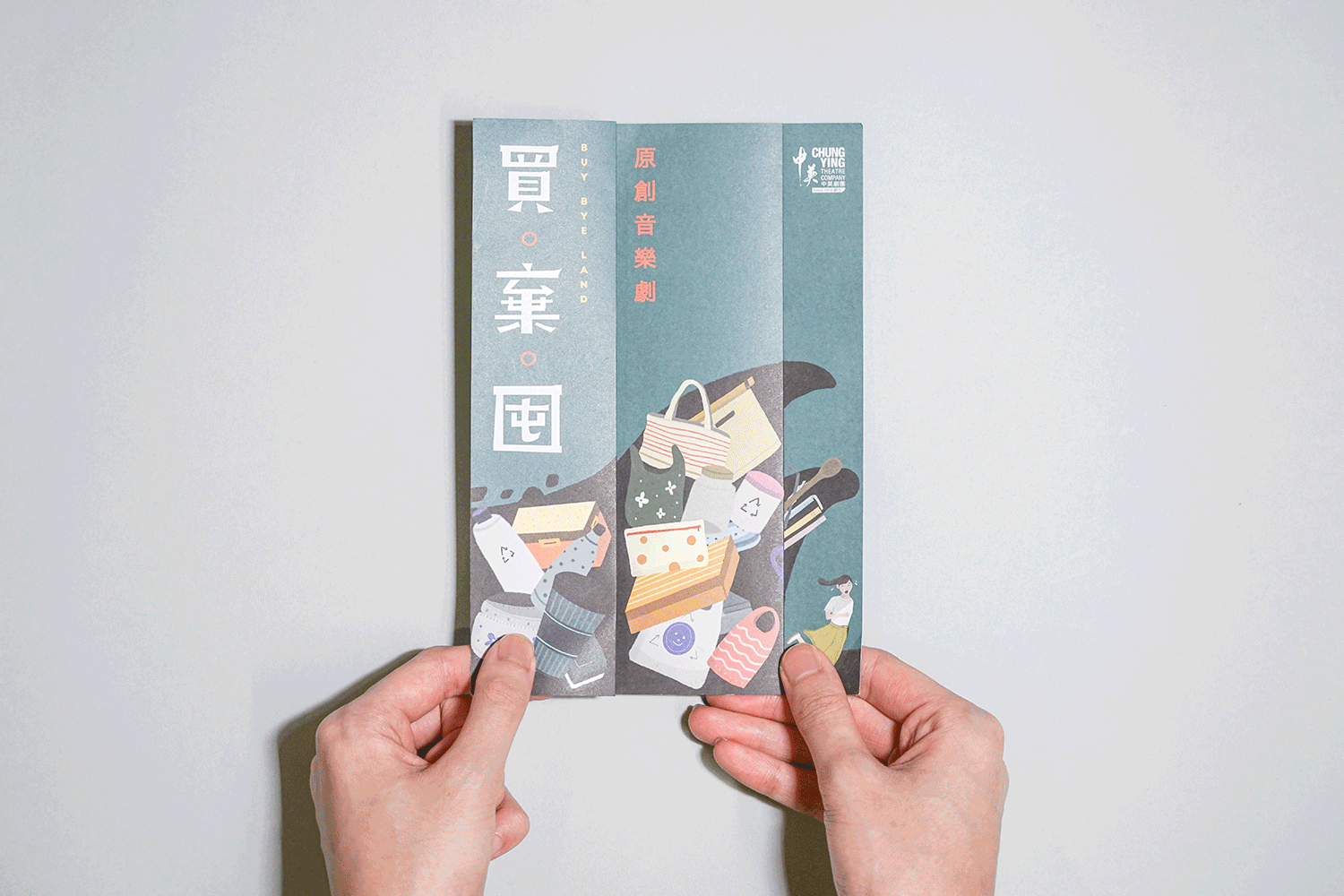 Adaptation on Social Media
& Viral Marketing

In this project we had a chance to make a full set of adaptation of the key visual, from social media identities, to banners across different digital platforms. We also produced several social media feeds to maintain presence online.

We were able to deploy precise digital marketing strategy and generate viral effect in one of the posts, gaining positive feedback to the musical.
Rehearsal Videos

A recap video of the previous musical was produced to attract recurring audience members. We also shot, edited and directed a rehearsal video of the new musical to show some the happiness and energy of the student actors behind-the-scene, in order to appeal to school members and parents.

Muse Up! 2019: Buy Bye Land
青少年音樂劇團2019年結業演出—《買。棄。囤》